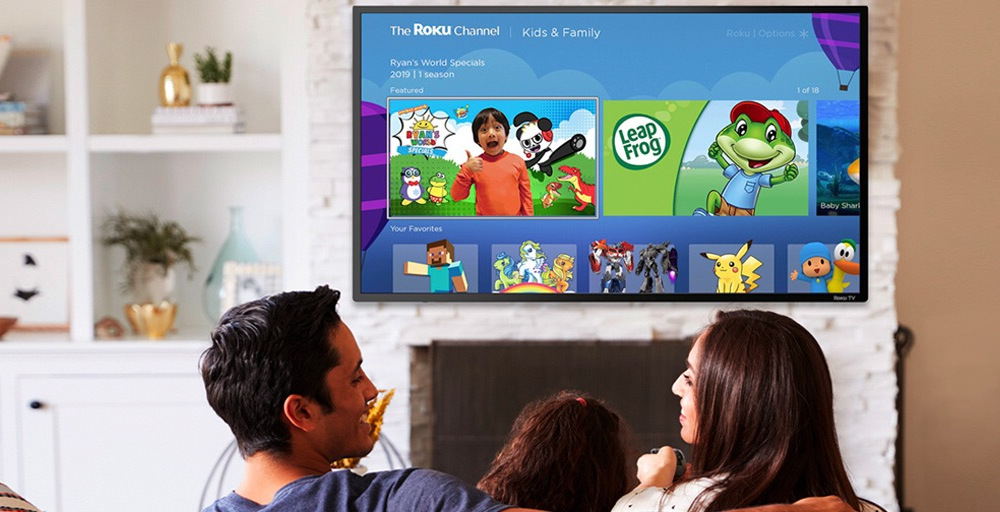 TV Streaming services have been investing greatly in programming for kids as of late. When it comes to Kids streaming, Netflix and Disney are undoubtedly the two leading names. Now, Roku looks to get into the act itself by launching a dedicated Kids & Family section on the Roku Channel. Parental controls are also going to be added which will give parents more control over what their kids are watching.
The Roku Channel
Roku's home entertainment hub, The Roku Channel, is expanding into programming for children. The company this morning announced plans to aggregate kids and family movies and TV alongside the channel's other content, including its free, ad-supported movies and television, live TV and subscriptions.

Kids & Family section
Meanwhile, the new kids section is not home to original content, but rather takes advantage of Roku's ability to aggregate the streaming content on its own platform — including both free content from other channels and digital creators, as well as kid-friendly content from the family's paid subscriptions.
At launch, the Kids & Family section will offer 7,000 free, ad-supported TV episodes and movies from 20 partners, including Allspark (a Hasbro company), DHX Media, Happy Kids TV, Lionsgate, Mattel, Moonbug, pocket.watch and others. This will bring a mix of classic franchises and favorite characters to the channel, like Care Bears, The Cat in the Hat, Leapfrog, Little Baby Bum, My Little Pony, Rev & Roll, Super Mario Brothers, Thomas & Friends and more.
This content will be mixed in with live, linear streams from Moonbug, pocket.watch and XUMO-powered partners Ameba, BatteryPop and KidGenius. There also will be five exclusive episodes of Ryan's World by pocket.watch available.
In addition, the new section can pull in premium content for kids from services like Blue Ant Media's ZooMoo, CONtv, Dove Channel, HBO, Hopster, NOGGIN, Starz or Up Faith.
That allows access to more well-known kids' brands, like Bubble Guppies, Dora the Explorer, PAW Patrol, Peppa Pig and family-friendly movies, including Adventures of Elmo in Groucholand, Muppets Take Manhattan and more.
In total, there are nearly 30 partners participating in the Kids & Family section. Notably absent, however, are top sources for kids' shows, like Netflix and Hulu.
Instead, the content in the Kids & Family section is organized by age range, character and theme in an interface that resembles Netflix's Kids' profile layout.

Parental Controls
In addition to the launch of the new "Kids & Family" section on The Roku Channel, Roku is also rolling out Parental Control features to give parents more control over what their kids can watch when accessing the channel. Parental controls are also now available on Roku, but only within the Roku Channel itself.
It uses a PIN system, which can be enabled from your Roku account settings. Once you set a PIN and choose the level of content that requires an adult's permission, any out-of-bounds material will prompt the viewer to enter a PIN before playing. Of course, that means you'll have to enter the PIN for these movies and shows too.
This system has no effect on the content played on other channels, so don't think of it as a perfect filter by any means. It also won't block inappropriate movies and shows from appearing on screen as thumbnails and descriptions, so if your child tends to find even these kinds of things upsetting, it's probably best to keep the Roku remote where you can control what they're seeing. It is useful for families who don't want the kids stumbling upon their HBO or Cinemax subscriptions.